Ductless Mini Splits Phoenix Arizona
Ductless Mini Split Specials in Phoenix
0% Financing for 60 months on NEW Ductless Mini-Split Systems OR $500 OFF!
Are you tired of inefficient and noisy central air conditioning and heating systems? Upgrade to a ductless mini split system and enjoy the benefits of energy efficiency, precise temperature control, and quiet operation!

At Bleuwave HVAC, we offer top-of-the-line ductless mini splits for homes and businesses in Phoenix, Arizona, and the surrounding areas. Our systems are designed to provide maximum comfort while minimizing energy consumption, helping you save money on your energy bills.

With a ductless mini split system, you can say goodbye to bulky ductwork and hello to flexible installation options. Our systems are easy to install and can be customized to fit your specific needs, whether you need to cool a single room or your entire home.

Plus, with advanced zoning capabilities, you can control the temperature in each room individually, ensuring maximum comfort and energy efficiency. Our AC mini ductless systems also come with multi-stage filtration systems that help to reduce allergens and other airborne particles, providing cleaner and healthier indoor air.

At Bleuwave, we pride ourselves on providing exceptional customer service and high-quality products. Our team of experts will work with you to determine the best system for your needs and budget and provide professional installation and maintenance services to ensure your system operates at peak performance.

So, if you're looking for a reliable and efficient way to cool and heat your home or business in Phoenix, Arizona and the surrounding metro area, contact Bleuwave today to learn more about our ductless mini split systems!
Best Locations to Install Ductless Mini Splits
Ductless mini-split AC systems are normally installed in the following locations of your home or office.
Workout rooms / indoor gyms / garage gyms
Arizona rooms / Arizona sunrooms
Expansions & remodels
Garages
Upstairs bedrooms that get lots of sun and no shade
Offices & small spaces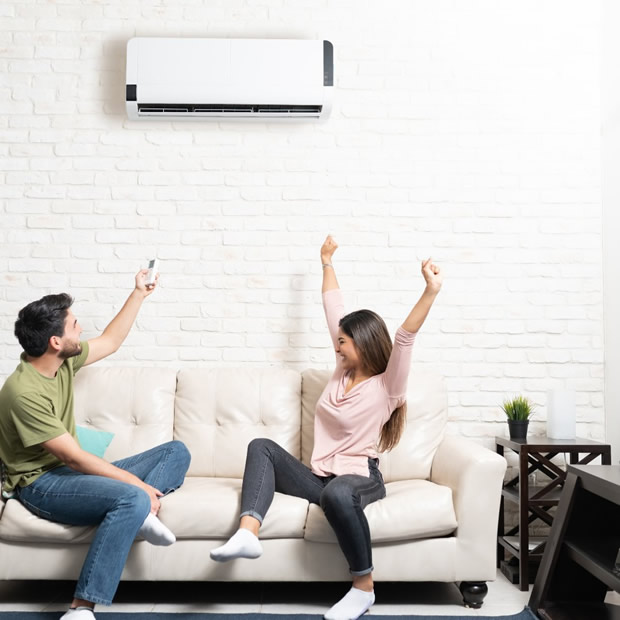 Benefits of Ductless Mini Splits
Ductless mini split systems have several advantages over traditional central air conditioning and heating systems. Some of the advantages are:

Energy efficiency: Ductless mini splits are highly energy-efficient as they do not have ducts that can leak air, resulting in energy loss. They also use inverter technology to adjust the compressor speed to match the cooling or heating demands of the room, reducing energy consumption.

Zoning capabilities: Ductless mini splits allow for different temperature zones in different rooms or areas, giving you more control over your indoor environment and saving energy by only cooling or heating the rooms that are being used.

Easy installation: Ductless mini splits are easy to install and require no ductwork. The outdoor unit can be located up to 50 feet away from the indoor unit, allowing for more flexibility in installation locations.

Quiet operation: Ductless mini splits are designed to operate quietly, with indoor units producing as little as 19 decibels of sound, making them ideal for bedrooms and other quiet spaces.

Improved air quality: Ductless mini splits have multi-stage filtration systems that help to reduce dust, allergens, and other airborne particles, resulting in cleaner indoor air.

Increased comfort: Ductless mini splits provide more precise temperature control and can maintain a constant temperature in the room, ensuring greater comfort.

Overall, ductless mini splits offer several advantages, including energy efficiency, zoning capabilities, easy installation, quiet operation, improved air quality, and increased comfort. Contact Bleuwave AC Repair today for all of your commercial AC repair, installation, and maintenance needs in Phoenix, Arizona.
Why Choose Bleuwave AC Repair?